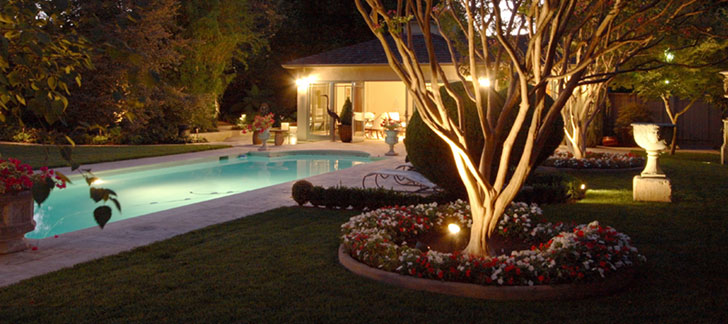 Andersen Home Services offers an array of services to help beautify your home. Let us take on those messy and tiresome chores so that you can relax and enjoy your family!
• Landscape Lighting
Extend your hours of outdoor enjoyment and provide safe passage and transition into and out of any area with quality landscape lighting. It's all about beautifying your exterior environment, blending unobtrusively into any surrounding, harmonizing your property with both nature and architecture. Our talented designers will bring your dreams to life with a three-dimensional look from dusk till dawn.
• Pressure Washing
One of the most affordable and simplest ways to increase your home's value and prevent the time, trouble and expense of future repairs. Just about anything can be power cleaned!
Siding
Concrete / Bricks
Patio Furniture
Fences / Decks
Driveways / Sidewalks
Gutters
• Deck Sealing
We use deep-penetrating water repellents containing natural oxide pigments and UV inhibitors to protect cedar, redwood, cypress, fir, pine siding, dimensional lumber, T111, and logs from the ravages of nature. Our products utilize formulations established by nationally recognized forest industry organizations. These finishes are available in transparent, semi-transparent and semi-solid formulas for the protection and beautification of your exterior and interior wood surfaces. We also offer a waterborne deck stain formula for application to damp or dry surfaces.
• Driveway Sealcoating
Sealcoating provides resistance to elements that can soften asphalt. It enhances asphalt's appearance by restoring the original jet black color, and is easier to clean and maintain while extending the life of your pavement investment. Our sealers resist water penetration and protect against cracking from oxidation and weather extremes.